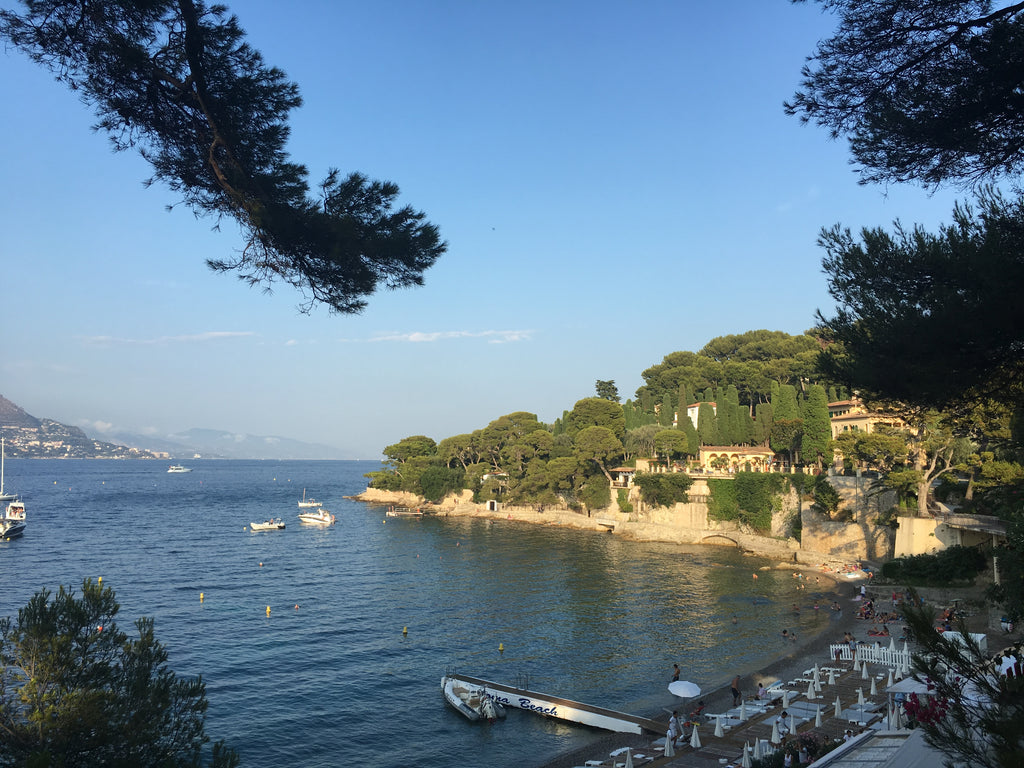 From Nice, North to Saint-Jean-Cap-Ferrat and Monaco
Anyone who knows me knows I love to travel! And my favorite traveling is not seeing museums and tourist spots- but to actually just live and experience the place, the people, the food, the culture- just take a break and actually enjoy BEING in another place.  That's my favorite kind of vacation.
So when I found myself with two weeks alone at the end of August with just my about to be 9-year-old twins (my older son was excited to be spending a week each with each of his grandmothers, and my fiancé was traveling with his son on a long ago planned trip) I jumped at the chance to live in France with them.  They are the perfect age to travel with- old enough to remember what we see, and to be mature about traveling and handle jet lag, etc.- but young enough to not want to spend all day on their iPhones (they don't have any!) and to still think they are meant to follow my advice and do what I say we are doing- and they really enjoy the things I plan too (they haven't figured out they can decide not to want to do those things yet, like my 11 year old going on 15 year old, who by the way DOES have an iPhone. ugh!)
I found a charming hundreds of years old farmhouse right outside St Jeannet, France, with 3 bedrooms and a pool at an incredible price, and booked it and a rental car ASAP. (St Jeannet is the town where Cary Grant's home is in the wonderful movie To Catch a Thief with Grace Kelly, and I'd always wondered if that amazing town set into the cliffs really existed- or was it a movie set? (note: It DOES exist; this is a real photo of the town we lived in!)
And this is the view from my bedroom every morning... 
...and in the evening, before sunset.
We were so high in the hills outside Nice that sometimes in the morning we would be above the clouds!
Note about living in a medieval hilltop town:  People talk about French villages being charming because you shop at the butcher, the baker, the cheese shop, the vegetable store, each day and get your "pain quotidien" but this town literally does not have a grocery store, give out shopping bags, take credit cards or have an ATM within miles.  You actually have to bring your own bag, CASH, and go from little family owned shop each day to get what you need for eating at home- as long as you plan for it, it's fun!
Since we all (the children and myself) love to explore, a village close to Nice was the perfect place to park ourselves for an extended period of time. From there we could drive to Antibes and Monaco in one direction, or down to Cannes in the other.   Renting a home, with children, meant that we could do all our exploring during the day, I could get in some super chic fun Mom stuff that I love (people watching, long lunches while they swam in the Med), and then we would return home and dinner was easy and at the house in PJs after a swim .  We designed an amazing itinerary for a French-loving, exploration-oriented family that I am sharing all our tips and locations visited here.  Here are my highlights from a 2-week excursion in the South of France with 8-year-old twins!
Note on renting vs staying in hotels: For this type of trip, I highly recommend renting a home, because we could unpack completely for 2 weeks, buy some groceries and things the children like to have around, and go out for the day and come back when we wanted without packing up every few days as you would if you were staying at a hotel in each of the towns I mention below.  (They are fabulous, but the price tags of the hotels and the resort like nature make them more suitable for a few days' vacation then homestead for 2 weeks straight).
La Vielle Ville, Nice
On the day we arrived, we landed at 8 am and our villa wasn't ready until 4, so we headed into the old town in Nice to walk around the charming little streets, see the street market, and eat some lunch.  We found a charming restaurant in the flower market in the old town so we ate right in between flower stalls.  Nothing culinary extraordinary, just good simple pizza and cafes on the square with fun little shops.  Whitney was thrilled with two 20 euro dresses and has been wearing her "French clothes" non-stop (way happier than she ever was about all the Bonpoint she had in her closet.)
Note about Jet Lag:  I travel to Europe often with my children, and I hear awful stories about families where the children are cranky and exhausted the whole trip. What works for us, is that I have them go to bed right away on the plane over- no movies or iPad, and then when I arrive I tell them it is 8 am and we just push through.  They get really tired around noon on the first day, and perk up again around 3 or 4 (when they'd be getting up in the US) but if I keep them up, then they are so tired they go to sleep at normal "French" bedtime, I wake them up around 8-9 the next day, and after a day or two they don't even notice they changed time zones.
Beaulieu Sur Mer
One of my favorite hotels on the Riviera is La Réserve de Beaulieu & Spa.  We had lunch at the Restaurant le Vent Debout, at 1 pm, and were able to book two sunbeds around the swimming pool from 10 am on with the lunch reservation.  This place couldn't be any nicer to children!  Despite the luxurious location and décor, they love (agreeable) children splashing in the pool.
Note on visiting luxury hotels for lunch:  A fun tidbit I learned, was that if you book lunch by the pool restaurants at some of these amazing luxury world-famous hotels they are MORE than happy to reserve pool or beach chairs or "day beds" as the French call them, for the day you are having lunch, so you get the entire 3000 euro experience for the price of a Caprese salad and Chateau Minuti :).  We loved going "luxe" for the day and then coming home to our little villa up in the hills outside of Nice. 
Eze
This is a wonderful old hilltop town with two amazing restaurants and a real perfume factory where they actually still produce Fragonard perfume and soaps.  We took a fun tour and sniffed lots of scents. I adore both of the castle restaurants in this town, so we had lunch here for two days.  The Chateau Eza has a Michelin star restaurant, looking out over the Mediterranean, and La Chevre D'Or has two.  Both require advance reservations and a credit card.
The children had a lot of fun walking around inside the walls of the old city- it really is remarkable to think that it was built in the 1100s and a real king (Guillaume of Sweden if your children ask!) lived there.  The terrace of the Eza is gorgeous, and a bit less formal than the Chevre D'Or.  They were so accommodating with the children's meals – doing a smaller portion of the sea bass with fresh vegetables which were not at all on the pre-fixe menu.
Note on fancy French restaurants (which I love!) with children: In the past, I've always found traveling to luxurious vacation spots in Europe tricky with kids because the food is so amazing that I want to have long wonderful meals but they get so tired sitting at a long dinner at the end of the day.  Having our main meal be lunch (and I mean 3 full courses, yummy artichoke salads, sea bream in salt, some kind of dessert and a glass of wine) when they were fresh, alert and hungry, and then swimming and hanging at home for dinner was the perfect way to get what I wanted and what they wanted.
Saint-Jean-Cap-Ferrat
I adore the entire French Riviera, but if I absolutely had to choose I think Cap Ferrat and the darling village of Saint-Jean-Cap-Ferrat would just edge out Antibes and Cannes closely followed by all the others.  This place is so fabulous it's hard to describe unless you are there.  Gorgeous topography- cliffs and rocks falling into that special color of blue that is the Mediterranean, swimming holes all along the "Cap", and wonderful places to eat, stay and swim.  This is where we always rent jet skis and play – my kids love surfing the wake of the yachts which are constantly coming and going into the harbor.  On a calm morning, you can jet ski all the way to Monaco in a ½ hour and it's such fun.  My favorite hotel is the Grand-Hotel-Cap-Ferrat which is a Four Seasons and has a fabulous beach club (Club Dauphin) where you can have sun beds or one of the many cabanas by the seaside.  There is a private entrance to a swimming hole right under the hotel.
For anyone who is a runner (I am), my favorite running path of all time goes along the coast right below the Grand Hotel from the lighthouse all the way into Saint-Jean.  Running along that path in the early evening as the sun sets is heaven.
Another fabulous place to swim is Paloma Beach.  Parking is tough, so we like to get a ride from the hotel and stay for lunch.  It's a fun scene and the people are so nice and the beach is great for children of all ages.  It is a rock beach, which reminds me of my childhood in Maine, and my kids love collecting rocks there.  Cap Ferrat Water sports operates out of this beach, and we have always had the very best instructors- young fun French locals who take my kids out on jet skis and give them the best time, safely.
For meals, Paloma Beach also has dinner, which is fun, or for a more elegant dinner Le Cap at the Grand Hotel is lovely and as usual, the French really do such a great job with children.  They have a special children's menu at a fraction of the price so the kids can come to a Michelin starred restaurant with the grown-ups and not break the bank.
Monte Carlo
Monaco is always a fun excursion, and I love spending the day at the Monte Carlo Beach Club.  Here it is worth springing for a Cabana for the day- it comes with 3-4 sunbeds and a full table and chairs for up to 8 people for lunch in front of the Cabana.  There is a Mediterranean enclosed "Pool" as well as a rocky beach, as well as the usual rock –ladder entrance swimming holes to the Med.  There is a water sports dock with all the toys you could image (parasailing, waterskiing, jet skiing, tubing, wakeboarding, and crazy jumping things I still don't know what they are).  The pool is Olympic size, and a great people watching scene. You can order lunch to the cabana and eat delicious food right in front of the sea In your own private area; or sit at The Deck, the restaurant above the pool.  After swimming, we stopped in town to see the new shops in the modern street they have built recently with the white domes containing each high-end brand as you walk the pavilion down to the casino. 
Read South of France: Part 2 here.