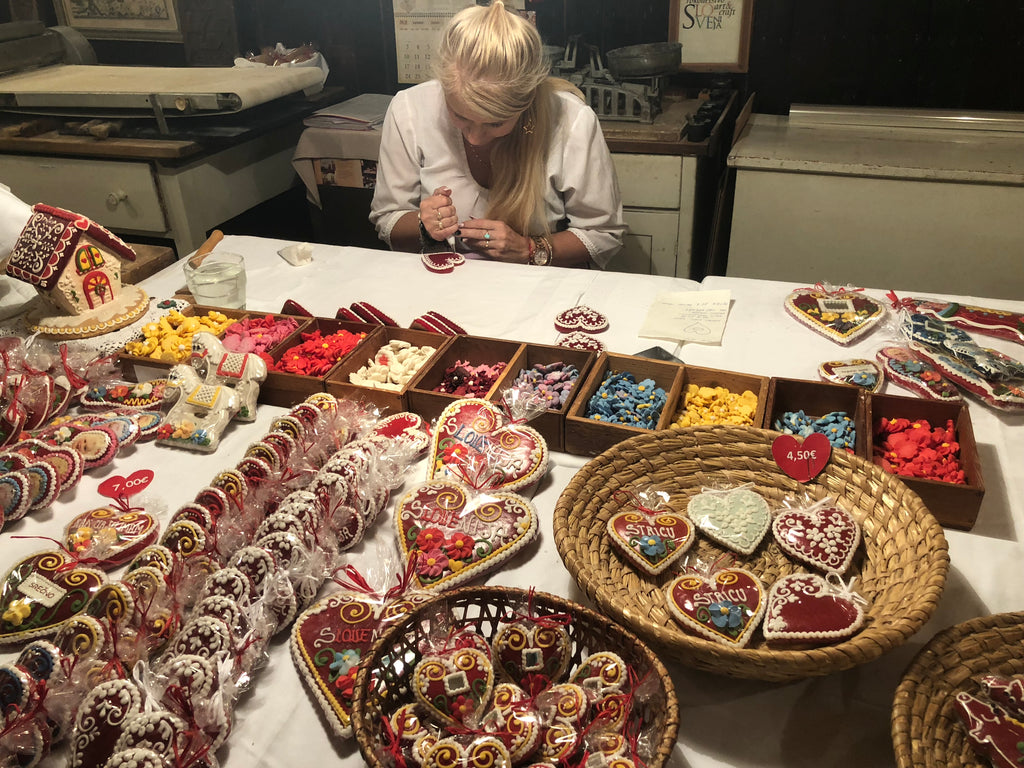 We were lucky enough to join friends on a bike trip (organized through Backroads) through Slovenia and Croatia in the fall, which is a beautiful time to see the countries.  I was fascinated by the history- our guide had grown up under Communist regime and her stories were fascinating- of crossing into Italy to smuggle bananas and other supplies, with her mother who always brought a fresh cappuccino to give to the border guard so he wouldn't look in the trunk of their car, for one!  The Slovenian people, where we spent the most time, were so friendly and proud of their country, they all point out it's the only country with "Love" in the name!
"Theology is not only about understanding the world; it is about mending the world."
Miroslav Vof, Croatian author
Where to Stay
We loved the old hotel in the capital of Slovenia, Ljubljana (the j's are silent, so you pronounce it Ljubljana), called the Grand Hotel Union.   One day is enough to visit the city- climb to the castle and walk along the river and eat in one of the cute and very reasonably priced restaurants on the banks. 
Closer to Austria is the must-visit town of Lake Bled.  We stayed at the Villa Bled, which coincidentally was the summer residence of the former president of Yugoslavia, Tito.  The history itself is fascinating and you can stay in his private apartment where he hosted Khrushchev and Indira Gandhi and relive a moment in history. The hotel has a really charming boathouse on the lake where you can swim right off the dock, they also have lounge chairs and will bring you drinks down to the lake, which was nice after a day of biking.
Croatia and Slovenia are both still very reasonable compared to other parts of Europe, which makes them a great destination for a budget!
In Piran, we stayed at Kempinski Palace Portorož which is an old hotel with a lot of history, beach access, and a great spa.
In Croatia, we did not stay in Dubrovnik like everyone else, but rather in a resort on an island off the coast, in Porec, accessible only by boat (a la the Cipriani in Venice but not quite as a luxury), called Valamar Isabella Villas.  Croatia has an incredibly beautiful coastline, and its tourist industry is not yet in step with the beauty of the landscape and what it has to offer.  For instance, at this luxury hotel, they made us give our room key when we took a towel by the pool to ensure we'd bring the towel back!
Where to Eat
One of the best restaurants in Ljubliana is Julija.  It feels a little like eating in Italy or Venice on a small side street.   In Bled, the restaurant at Villa Bled is quite good.  The food in Slovenia, in general, is a mix of Austrian and Mediterranean cuisine, not surprisingly, and we always found something we could enjoy eating.  The hotel restaurants at the Bled and the Kempinski Palace were both good.  The region of Piran is called "Istria"
And the food shares the flavors of the borders – Austria, Hungary, Croatia, Italy, and the Adriatic Sea.  Menu creations follow the rich local tradition of fresh Adriatic seafood, Mediterranean dishes, seasonal truffles, local olive oil, and a good wine menu.
What to do
We biked about 40 miles a day on this trip, so biking was our main activity!  However, during the day we did find time to stop for some interesting activities. 
Towards the Adriatic Sea from Ljubljana is a town called Lipica, which is known for the stud farm where they raise Lipizzaner, the breed of horse known for dressage competitions.  You can go and see this state-run farm and how they train and breed the animals. 
The seaside city of Piran is a picturesque vacation town which reminded me of a mini-Cap Ferrat or Cannes on a lesser scale- it has a casino and hotels with beach access on the other side of the road and lots of delicious seafood restaurants.
Slovenia is also known for its Truffles, and you can book a tour of a truffle hunting operation and even go out with the truffle dogs (not pigs) and watch them find a truffle.  It was pretty unusual as I was certain it was a set up, but then the guide proved otherwise in an interesting way!
In Croatia, we spent time on the water, and also spent an afternoon visiting Rovinj, a charming town that is reminiscent of Portofino, with colored homes and a protected harbor and streets all leading up a hill to the church at the top.  There are lots of adorable restaurants and shops all along the streets, and we had fun just wandering around and getting a coffee and gelati.
Best of Croatia & Slovenia
" You can't miss this majestic  white are nouveau building, which has been welcoming guests since 1905."
Grand Hotel Union
"This luxury boutique hotel in the heart of town is a fresh face of the Ljublijana hotel scene. "
Antiq Palace Hotel
sign up for our newsletter
Kate Davis 
Founder and CEO of Pickett's Press.